We are blessed to be served by a talented and dedicated staff.
The staff of Lutheran Church of the Good Shepherd includes paid professionals as well as gifted and faithful people who serve on a volunteer basis.
Mr. Christopher Prestia, Cantor
Contact Chris
Christopher Prestia began his musical training at the age of six in Garland, Texas, studying piano under Kathy Pratt. After relocating to Wantage, NJ, he discovered his love for the organ when he accepted his first position as a church musician in October of 2004. After beginning formal organ lessons with John Baratta in Newton, NJ he decided to make sacred music his life's work. Christopher completed his Bachelor's degree in Organ Performance with Mark Laubach at Marywood University in Scranton, PA. While at Marywood he also began his vocal and choral studies under Sr. M. Alphonsa Concilio and Dr. Rick Hoffenberg. Christopher continued on to study Organ Performance, Sacred Music, and Choral Conducting at Indiana University under Janette Fishell, Bruce Neswick, and Dominick DiOrio, respectively. Since then his career has taken him to serve parishes in Central Pennsylvania and New York City. Christopher also maintains a studio of private music students, using an approach that emphasizes skills that can be applied equally to music and everyday life. In his spare time Christopher enjoys architectural design, cycling, wellness, cooking, and learning about the Victorian and Edwardian eras.
Mrs. Kathy Tropp, Parish Secretary
The Parish Secretary assists other staff and leaders in their work, through records management, publications, mailings, and daily supervision of the church office. Kathy is the first person you will encounter (either by voice or in person) when you call or stop in at the church office. Kathy came to us in 2007, and is a valuable member of the staff.
Kathy Saltzer, Parish Visitor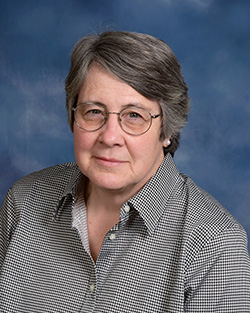 Kathy grew up in York, PA and is a graduate of Boston College's School of Nursing. She has worked as a neonatal intensive care nurse for over 40 years, serving for more than 25 years now at Penn State Hershey Medical Center. She also serves the congregation as a communion deacon, assisting minister, and participant in the prayer shawl ministry.
Kathy serves as godmother for more than 20 kids, some of whom are now adults. She enjoys reading, history, building dollhouses, quilting, cross stitch, and scrapbooking. She especially enjoys visits to Williamsburg, Virginia.
The Reverend Henry Herbener, Parish Visitor
Pastor Herbener grew up in Harrisburg and graduated from Muhlenberg College with a degree in History. He earned both a Masters of Divinity as well as a Masters of Sacred Theology degree from Gettysburg Seminary. He also completed a 4 year post graduate program in Marriage and Family Therapy at the University of Pennsylvania. Pastor Herbener is a clinical member in the American Association of Marriage and Family Therapists. He served parishes in Greensburg, Abbottstown, York, and Ephrata, all in PA, and retired from Holy Trinity, Ephrata at the end of January 2018. In June 2019, Pastor Herbener marked the 40th anniversary of his ordination, and celebrated a 40th wedding anniversary with his wife, Lillian. They have a son, Matthew, who lives in Leola. The Herbeners have 2 golden retrievers and he enjoys sports at all levels: high school, college, and professional. For the past 3 years, Pastor Herbener has been the Chair of the Luthercare Board of Directors. He also has served on the synodical Candidacy Committee. He and Lillian began worshipping at Good Shepherd following retirement.